Watch repair
Kiev str. Shota Rustaveli 34
Water-resistant - the second part.
Despite the fact that such an important moment in a waterproof watch, we examined in some detail, the questions on this topic does not stop because it was necessary to return to this important topic and to re-examine the main provisions of waterproof and misconceptions arising on this issue.
The main source of false information, unfortunately remain "ignorant" by the seller. Second place goes to advertising, persistently issuing a desired reality.
Recently, not infrequently, when buying a clock of a client finds documents liner pattern, which shows the physical activity and different degrees of moisture-hours, which must comply with these loads.
Below is a diagram of a typical liner is a Japanese company Casio. Your attention is drawn to the fact that the above information on this scheme is absolutely untrue, as is clearly overstated. Using this scheme as a guide, you risk damage your watch.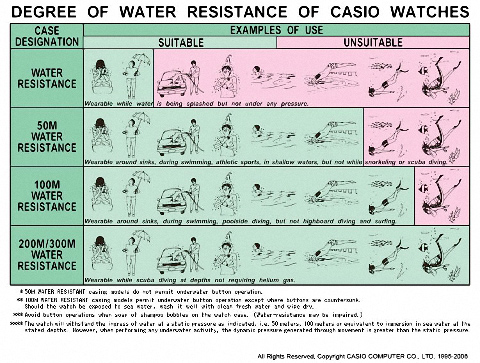 Now think of the label and the appropriate degree of moisture protection.
Water Resistant (Water Resistance) – minimum degree of water protection for today's watches, usually only indicates that the watch has a seal or gasket caseback and crown.
30Meter (30M или 3 Bar) - higher quality water repellent, a clock with this label must withstand the pressure of three atmospheres.
50Meter (50M или 5 Bar) - more high-quality water repellent, the clock with this label must withstand a pressure of five atmospheres.
100Meter (100M или 10 Bar) - Watches with this label must withstand a pressure of ten atmospheres. It is believed that in a watch with a given degree of water protection you can swim to the surface without diving.
200Meter (200M или 20 Bar) - Watches with this label must withstand a pressure of twenty atmospheres. It is believed that in a watch with a given degree of water protection you can do scuba diving. In fact, diving watch must pass special tests and certification, respectively.
There are other markings 300Meter (300M or 30 Bar), 500Meter (500M or 50 Bar) and even 1000Meter (1000M or 100 Bar) - to consider these positions does not make sense for the simple reason that no one without special protection of such physical activity does not stand.
Now we go on the scheme.
The first picture - washing, hand washing. Normal pressure at which water is pumped 8 - 10 atmospheres. When purging, which often produces a water utility after turning off the water up to 12 atmospheres. Watch with Water-resistant to 200Meter (200M or 20 Bar), even theoretically, can not withstand such loads. The habit of washing your hands without taking hours rather can be attributed to the harmful.
The second picture - getting rain. Rain rain strife. After contact with the rain, as well as during hand washing, especially during the winter from the cold or the summer on the beach (overheating and rapid cooling in the bath), there is such a phenomenon as thermal shock or thermal stress. In consequence of chilling watches in case it falls off rapidly the pressure, watches are literally sucking the air inside is usually a crown when the watch is wet, water gets into the body quite easily. But to remove water from the body without opening the watch is almost impossible. As a consequence - Corrosion in mechanics, electronics or circuit in.
Exact measurements, I did not make, but practice shows that the clock is marked 50Meter (50M or 5 Bar) is often brought into the studio with the perspiration on the glass (water in the case) at the same time during the test time in the pressure chamber housing with the "defect" can withstand pressure in six and sometimes seven atmospheres. The cause moisture in the body - hand washing, exposure to rain. A typical case is a Casio - watches on the test stand load, even with the stock. In the picture sort of defect, which is actually not. Replacement of gaskets, the client in such cases, requests or demands to produce, will not give exact figures absolutely nothing.
The third picture - washing machines, splashes. Few in our time washing the car using a conventional bucket. Often, drivers use the services of car washes. In the car wash where water supplied in a special pump hose under very high pressure. Owners of expensive cars (and usually expensive watches) have the pump in his garage. Even visually, without any measurement is seen that the pressure is given out in such a pump in two to three times higher than water supply .
In this case, there is such a thing as gidroshok or hammer - a sharp increase in external pressure caused by rapid immersion in water or hit watches under a stream of high pressure water. Almost always accompanied by thermal shocks.
The fourth picture - showering. The ideal way to combine such things as thermal and hydraulic shock. It is very heavy for extreme watches. If for some reason you have a need to carefully monitor the time in the shower, the only sensible advice - remove the clock with hands.
The fifth picture - swimming. Always remember that water is likely to still be you just can not. During normal swimming, the stroke of a hand immersed in water, the ambient pressure increases on the clock about three times.
Sixth picture - jumping into water. Guaranteed thermal and hydraulic shock loads as possible, borders on vandalism. In extreme comparable to the sauna in watches.
Please note - for a sauna or a bath, as well as for any jumps in the water, whether it's stand, tower, boat, watches do not exist. It's not even including the clock, most likely blown out of order on this application - you may get a very serious injury hooked for watches, or get a burn.
Seventh and eighth Pictures - scuba diving. While diving is reasonable to opt out of watches urgent need to track time in this case. In the case of diving with breathing apparatus (SCUBA) on the contrary, for the time should be sufficient to monitor closely. That's why the clock in this case it is better to use specially designed for this and past special, mandatory testing.
Cases of watches in the freezing water into ice, boiling in the kettle, testing the strength of ejection from the tenth floor or installation to the tram rails are not considered in violation of the explicit form in this case, watches of operation conditions, described in detail in the time sheet and warranty card.