Watch repair
Kiev str. Shota Rustaveli 34
Repeater - Watches that sound.
Long ago, when cities were small, their small population was oriented in time for the battle hours at City Hall. Of course, for the powers that it was not too comfortable, because one of their main virtues of kings, is known to be accurate. Therefore, the fathers of watchmaking inventions - pocket, and then wristwatch - first used alone kings and their entourage.
Owning such a miracle of mechanics and at the same time a symbol of prestige and wealth, to know, of course, carefully showed them everywhere, along with clothes, furs and jewels. And since the lighting of city streets and squares at the time was far from perfect, pretty soon it became necessary to watch with audible indication of time.
At night, these devices were simply irreplaceable. That's why long before the advent of modern wrist alarms widespread in Europe were the so-called repeater, or sound repetition time.
Excursion into history
In the infinity of being a man always willing to occupy the first place. To achieve his, he displayed extraordinary ingenuity, amazing complexity and wit of his creations. But not only the desire to be first is the main driving force for progress: the opening are often born as a reaction to the challenge in difficult times.
Portable Watch barely out of infancy, when the Italian Jacopo Trott in his letter to the Duke de Ferrars, dated July 19, 1488, proposed a variant of hours of audio time signals. The proposal was accepted. In fact, it was a response to the challenge needed. Thus, long before there were clocks with lights, watchmakers found a way to "hear" the time in the dark.
Before the invention of von Shrotterom in 1845, matches, fire had to get through the flint strikes a piece of steel. Falling sparks were sent to the canvas or charred tinder until they begin to fester. Then it was necessary to make the smoldering tinder ignite, and only then it was too light a candle and by its light to consider the numbers on the dial. If there was a function of hours beating the current time, or repeater, the lack of night lighting to some extent compensated.
Wall and desk clocks are often supplied with a cord, hanging down from the case. When he pulled over, then repeated the last hour of battle, and in some models and quarters of an hour too. For this reason, pocket watches were supplied with push-button device: by clicking on it, could, if necessary, to make the clock struck a quarter hour, total hours and minutes
Sometimes a pocket watch and have a more complex device: supplied automatically moving figures (zhakemarami), various additional devices that played popular tunes.
So, very early in the history of watchmaking came striking clock. They exist today, bringing out ancient to modern timekeeping small miracles of musical romanticism. Depending on the features striking clock and repeater can be divided into several types.
Classification
Quarter-repeater
Quarter-repeater (repeater, beating off a quarter). Voiced by every hour and every quarter of the two sounds of different heights. The mechanism was invented around 1675 by Edward R. Booth, English Bar-Lo, Daniel Kvea (it is believed that it was he who invented the minute hand) and Thomas Tompionom. March 2, 1687 Daniel Kvea was issued a patent for an invention repeater quarters.
Half-quarter-repeater
Half-quarter-repeater(repeater, poluchetverti batter). Voiced by every hour and a quarter in two different pitch, as well as a short sound half quarters (7.5 minutes).
Five-minute-repeater
Five-minute-repeater(five-minute repeater). Voiced by every five minutes and every hour of the two different sounds.
Minute-repeater
Minute-repeater(minute repeater). Voiced quarters and minutes in two different sounds.
Grande Sonnerie
Grande Sonnerie - repeater, which automatically voices hours and quarter hours of repeats, and repeats each quarter hours, quarters and minutes on demand.
Petite Sonnerie
Petite Sonnerie automatically voiced hours and a quarter, but did not repeat the number of hours each quarter. Grande Sonnerie and Petite Sonnerie lock feature, which will block the audio mechanism.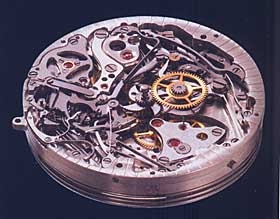 How do these mechanisms? By pressing a dedicated button, for example, minute repeater, we consistently hear the first sounds of a certain amount of low frequency (the number of hours), then double sounds low and high frequency (the number of quarters) and, finally, the high-frequency sounds (this minute). It remains only to count. Seven low tones, then a double and three high mean that time - 7-18 (seven hours + a + quarter three minutes).
One can not but recall the famous "Top of the sixth signal corresponds to fifteen hours Moscow time." In the grand strike hours and quarters automatically sounded. Translating a minute repeater mode lesser strike, Julius Audemars Dynamograph auto hear only the number of hours. Mode activates three chimes gong instead of the usual two. Generally, in complex with the battle watch the quality and beauty of sound is directly dependent on the use of steel and manufacturing technology gongs, hammer and a sound mechanism as a whole.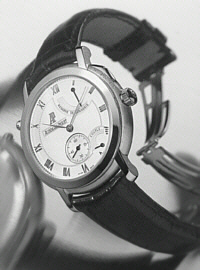 In this direction, carried out an enormous amount of research the most famous watch companies, such as "Audemars Piguet", "Vacheron Constantin", "Patek Philippe". In 1892, the "Audemars Piguet" designed and constructed their first wristwatch with minute repeater. In 1998, calling on the world competition, the company introduced the most compact repeater - gongovy minute repeater for women. The size of a wedding ring, they contain 340 parts by no means a simple mechanism.
Made of 18-carat pink gold watch can not leave indifferent any woman. Complicated watches made ​​by the Geneva 'Vacheron Constantin ", besides the usual clockwork mechanisms are equipped with combat rehearsals and a quarter hours and minutes, alarm clock, stopwatch, calendar and sophisticated device. As the results of tests at the Geneva Observatory, on the accuracy of the first class they correspond precision pocket watches.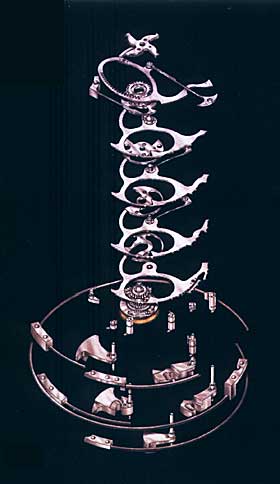 The firm "Patek Philippe" (Geneva) in 1914. year's exhibition in Bern showed pocket watch very complicated device. Besides the usual clockwork, they were also equipped with mechanisms for fighting and rehearsing-quarters hours and minutes, stopwatch, calendar unit complex and the mechanism of moon phases. Each had a separate mechanism of the plant and power reserve indicator.
In keeping with its tradition of creating super complex watch in 2000 "Patek Philippe" has constructed a model of the Star Calibre 2000 (detail - in the April magazine "Chasy.Stil and Time" in 2001), which is equipped with a mechanism battlefield Grand Sonnerie. The peculiarity of it is that it accurately reproduces the melody of the famous Big Ben in London. For the first time in the world famous watchmakers watchmaking company was in a fairly small space required for this set of gongs.
In this age of the rhythm of life dictates new laws. Today, only the most carefree and happy can not afford not to think about time. And the rest just need to wear a wrist watch. And now, these mechanisms can not only measure the time, but also perform other functions. To rush into this world not to forget about important meeting, or just in time to wake up, watch craftsmen create alarms.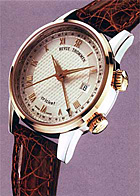 The first wristwatch with an alarm clock was presented to the world in 1947 by REVUE THOMMEN. They were called "CRICKET" in honor of the famous insect - the cricket. Listening to nature, a watchmaker from this company Robert Ditishaym suddenly, as often happens, came upon the idea of ​​a wristwatch with an alarm clock. And because accuracy - the politeness of kings, watch "CRICKET" REVUE THOMMEN become faithful companions of many U.S. presidents (I wonder who woke the presidents of other countries?).
In a letter to Robert Ditishaymu U.S. President Lyndon B. Johnson wrote:
"Dear Mr. Ditishaym, thank you for the opportunity to check in my wrist alarm" CRICKET ". This watch is so important to me that I miss you if you do not wear them. Sincerely, Lyndon Johnson, May 15, 1964. The White House, Washington "
In order to set the sound "cricket" in the wrist alarm clock has a separate crown, located in the "2:00". In the "4:00" is the usual crown of the plant itself for hours and setting the exact current time.
Alarm sound very much like the loud singing of the cricket, from which it is impossible not to wake up. And if he sounded during a friendly meeting, the sides will be very surprised by the presence in the room of this rare insect in urban environments. Double wall clock with the acoustic sound of the alarm increases the membrane, driven by an original mechanism for seventeen jewels.
Talking about clock with snooze, not to mention also the electronic clock, which at the touch of a button, perform a popular tune or even a human voice tell the time. There are also many other options for hours with an alternative way of communication time. Some of these hours can be called more than the original.
For the message to the subscriber and the time to bring it in a sense, this watch provides a small needle that pops out of the case and gently pierce the skin of a person as many times as at the moment. I wonder where else would watchmakers their tireless imagination?